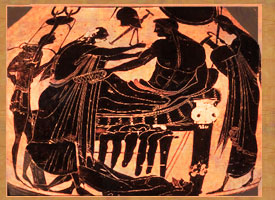 "I am now come to the ships of the Achaeans to ransom his body from you with a great ransom. Fear, O Achilles, the wrath of heaven; think on your own father and have compassion upon me, who am the more pitiable, for I have steeled myself as no man yet has ever steeled himself before me, and have raised to my lips the hand of him who slew my son." Iliad 24.500. Illustration: Ransom of the Body of Hector
The Classical Studies Research Guide highlights resources primarily selected from the online and print collections of the Boston University Libraries. I hope students and scholars of classical antiquity and its enduring tradition will find the Guide useful and convenient.
Click images for sources and information.
Your comments, questions, and recommendations for both print and online additions to the Library's collection are always welcome. Please let me know how I and the library can better assist you in meeting your coursework and research needs.