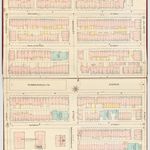 Click to enlarge and zoom.
Sanborn Fire Insurance Maps of Massachusetts: Boston
Black and white-

Mugar Microforms HG9778. M37 S45 (basement; staff will help you print hard copies)
Reel 4: 1887, v.2 Back Bay – South End/Sections 29-59
Reel 5: 1897, v.2 Back Bay – South End – North Dorchester/Sections 1-83
Color-

Harvard University Digital Resources
[City proper]. 1885 [v.2 [Back Bay and South End]. 1887 (seq. 30-59)]. Digitized from original books. No restrictions on access copy. Sheet 31 shows Back Bay.
Norman B. Leventhal Map Center
Sanborn Map & Publishing Company 1885