Screen 13 offers you the opportunity to have ProQuest register copyright for you.
Should you or shouldn't you register copyright? That's entirely up to you. Here's an important thing to understand: you already have copyright to your original work regardless of whether you register it. You are protected by applicable copyright laws without registration, in case someone sues you for infringement. However, if you need to take someone else to court for infringement, you can't file suit unless you've registered copyright before the date of their offense.
If you do decide to have ProQuest file for copyright on your behalf, that will cost you $75. If you do decide to do it yourself through the US Copyright Office it will cost you $45.
Whatever you decide, the next screen allows you to order hard copies of your work. It's optional and pretty self-explanatory.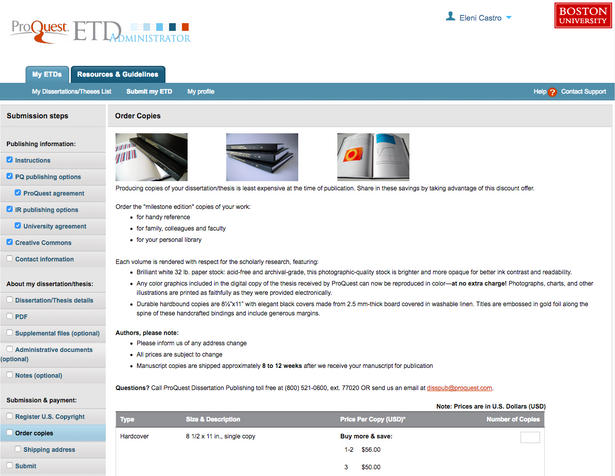 If you do decide to place the order, you will be directed to the Shipping Address screen.
And finally on Screen 16 is the Submit button. After you you review your submission and correct any mistakes, if you've ordered any paid services (copyright registration, hard copies of your work), click "Continue with Submission", and you'll be directed to the payment page. Pay with a credit card as directed. Please note: you'll be paying only the ProQuest service fees, not the BU submission fee. The BU fee, which is handled separately, can be paid with a credit card by filling out the Dissertation/Thesis Processing Fee Payment Form.
If you did not order any paid services, after you review your submission and correct any mistakes, click the "Submit Dissertation/Thesis" button. If you see something like the below, you're done.